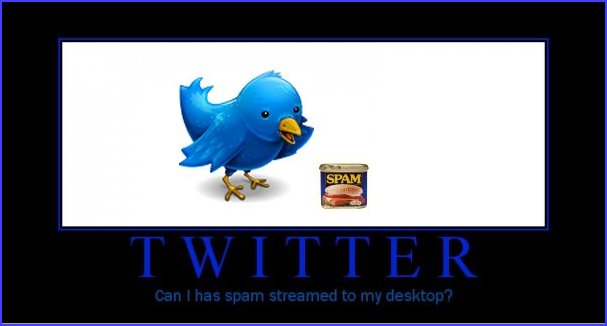 Twitter announced today that it was unable secure investment in its latest round of funding and that it will close within 6 weeks if a buyer isn't found.
Okay, so not really but it is going to happen and when it does Evan Williams and Biz Stone are going to be kicking themselves for not selling to Facebook for a cool 500 mill last year.
The Real Reason That Twitter Can't Make Money
Twitter is an application and business model fundamentally flawed on so many levels that it makes the head spin. There are ways out of it but if they haven't figured it out by now it's obvious they aren't going to and the longer they leave it the less interested anyone will be to buy a failed business model. Google recognise this and say they aren't up for buying it and yet they bought YouTube in a heartbeat. So what went wrong?
YOU CAN'T MONETISE THE STREAM
And that's all it is. Let's analyse why Google isn't interested…….
Okay, it doesn't take much analysing, just a bit of common sense which Ev Williams and crew have thrown out the window apparently. Why did Google buy YouTube? Why do they provide a free email service to millions? Because people spend alot of time on those websites. And when people come to your site guess what you can do? Advertise! It's all the rage apparently but Twitter didn't catch on. Instead they provide an API free of charge so that people can spend no time on their site. Yep, they just give away all their traffic because apparently it isn't worth anything.
But 4 million people visited Twitter last month!
I "use" Twitter but the only time I go to twitter.com is to spam…sorry, follow other people. And that is what those millions of people are doing because, let's face, there's nothing to see at twitter.com (link nofollow'd of course). And when you're trying to follow 100 people in one sitting the mouse is in a clicking frenzy with up to 20 open browser tabs. I'm in the zone but sure, whack some some ads in on those pages, I'm sure I'll click on one.
Twitter is streamed to me via TweetDeck. The only way Twitter can monetise the stream is to release a TweetDeck type application and drop their API, forcing all users to use their app which they can monetise all they want. But part of Twitter's success is that internet geeks can make totally worthless apps that will never get used so if they drop the API and force people to use their own app I think many people would just stop using it.
How about all those Tweets that get sent out via SMS? Surely someone with an iota of business acumen would see the opportunity and mark up the cost but nopes, that is money they don't need.
The latest buzz is adwords type ads on Twitter's search page. Because all of a sudden we are hearing from everywhere that Twitter's search function is almost better and more relevant than Google.
Riiiiiiiiiiiiight.
Twitter's search of user's inane tweets about what they are reading currently and what they had for dinner is waaay better than Google with all that content in 140 characters? I bet Eric Schmidt is shaking in his
boots.
The Many (ahem) Uses of Twitter
So what is Twitter and what is it not?
It's a vehicle to get your word out, instant messaging to the masses. And if you follow thousands of people that is thousands of people with something to say. The horror. The blogging phenonemon is bad enough as it suddenly gave people with no technical knowledge an easy platform to voice anything that came to mind. But now you don't even have to format an article.
Twitter is not a network and it's not a community. For the most part (the part that creates all the hype) it's a collection of people that follow people so they get followed back so they can spam links and maybe get traffic. Forums *can be* communities if the member base is not posting just to drive traffic to their sites like DigitalPoint or WebHostingTalk. And bloggers, sorry, but your blog is not a community either as we all know most commenters comment for one reason only.
The only people that maybe get real value are high profile names that ordinary folks have a genuine interest in and follow. And if the person they follow isn't following 10,000 people. Like high profile bloggers/IMers/SEOers like Sugarrae (follows a handful, has 5000 following). Fair play and all that but they are the ones hyping Twitter. But that isn't a network. It's more like a Facebook fan page and for that Facebook is better. And it matters not that Facebook grows a twitter every 10 days, Twitter will still make FB redundant (in 2087). Twitter is useful for the person that has many followers but doesn't follow people as they can get real time feedback and also when they need to get word out they can (as long as his/her followers aren't following 10,000 people). I often hear about "real-time conversations" but I don't see that. We aren't all following the same people so conversation are one sided. Someone I'm following is replying to someone I don't even know. This is not a network. Twitter is a free-for-all link spam medium.
The problem with Twitter can be summed up with this post. To sum up it's all about ME, ME, ME and furthering my interests whether it be spamming my content (points 1, 4, and 5) or trying to needle my way into meeting someone to further my ambitions (points 2 and 3) and being blatantly obnoxious (8, 9, 10).
I joined Twitter because I'm into SEO and IM and Blogging and everywhere I went people were telling me to "Follow" them and that if I wasn't on Twitter I would be missing oput on the next thing since sliced bread. So I got on there and played around, followed loads of people in the field I was interested in. And the result? A stream of spam of links to crap articles and Guy Kawasaki posting AllTop headlines every 3 minutes? Seriously, DoubleYou Tee Eff? And being the good sheep I am I tried it myself but I am just far to cynical and self-aware to do something that when I saw others doing I thought "but you're only on Twitter and posting that link so I can come read some crap you wrote".
Buy hey, maybe I don't "get" Twitter but then again I'm not an egocentric, self-interested marketer whose sole goal is to get the word out. I have a business, I have products to sell, the company has a client base and a blog, forum and mail lists are all I need to "connect" to our user base. I hate self-promotion. I'd much rather leave it up to users to get the word out about our service. And if you provide a decent service that can be all you need (not including real advertising). But maybe i'm not alone because Eric Schmidt also doesn't get it but who is he anyway?
The True Power Of Twitter
Many will say that the power of Twitter is that something can quickly go viral. Well, can it? I'd like to see some stats to back up something that went truly viral on Twitter. But all that traffic from Twitter is listed as Direct Traffic (unless you put some tracking on a link). But this is another problem. People maybe retweet a link instead of referencing it in a post or article. Hey, thanks, I apprciate the RT but I'd rather have the link thanks. John Andrews writes about how Twitter is changing our linking behaviour and does it alot more eloquently than I could ever do. Maybe the best thing that could happen is someone finds a post via Twitter and then Diggs it from where it can go truly viral. But then again no-one is really reading the stream anyway. So Twitter isn't replacing the web, isn't replacing Google and it isn't a search engine.
Twitter's growth is far from steady, in fact Twitter could be peaking. The hype will die down and all the people that got drawn in to Twitter with promises of making millions will leave when they come to the realisation, "What the hell am I doing? I could have just written 3 articles and built 100 links but instead I spent 5 hours retweeting nonsense and spamming a link to a blog post I wrote last week and got 5 visits".
Somewhat of a rant but when the places you love like TechCrunch and Search Engine Journal fill your mail daily with a Twitter article every third post something somewhere is going to crack.
So lets get off Twitter, get to writing and get back to real linking. See all those links in this post, that is what we should be doing.
But do follow me on Twitter. I probably don't know you but I can't wait to here about what you're reading and how you slept last night. ;)
(My fire-retardent suit is on and if you read all that I won't hold it against you for flaming me)