Our new site has been live for a month now. The feedback has been truly amazing. So many people mentioned how much they liked the site and many emailed us just to say that. I thought the site was good but the sheer amount of positive feedback really took me by suprise.
We have seen a 400% increase in sales and about the same increase in traffic. The traffic stats are a bit skewed because the old NexusPortal is now integrated with HostNexus so the stats include forum traffic and support traffic. But there is no doubt that a good site helps convert visitors into customers. I saw the same thing 6 years ago when we launched the old Ceonex site.
But how often should a company change its site? The net is an ever-transforming animal so there really is a need to change designs to keep up with the latest trends. Some people say once a year but I think that's a bit much and I certainly wouldn't be able to handle that. I think maybe every 2 years would okay for small changes. In our case it had been 6 years so a radical change was needed but believe it or not I set out on this mission to get a new site up for HN in June 2006 – yep, 3 years ago. So just how can a site take 3 years to build?
The Beginning – 2006
In the summer of 2006 I posted the job to redesign HostNexus on Elance. For those not familiar with Elance it's an online marketplace where providers and customers come together. A customer posts a job and providers bid on it. After a week or so I narrowed down my selection to about 5 providers and asked that they do a concept or mock-up. I think most of them did and I chose a provider. They did a nice site that kept the theme of the old one and integrated the old flash presentation: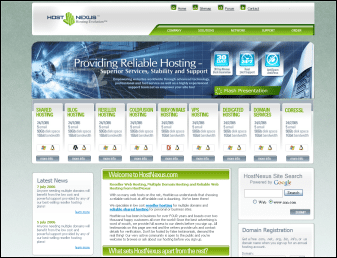 Over the next few months I worked with this design team. They had their own system for contact purposes and on quite a few occasions I would spend a few hours writing out layout ideas and examples and then in an instant all my writing would be gone. This was very frustrating. And when I'd write an update only a few things were worked on. The pace was incredibly slow and I had to repeat myself 3 of 4 times in some cases. After about 5 months I gave up. I paid the design firm what they were owed and took my files. They were pretty cheap – some Russian firm if I remember – but the continual banging of my forehead on the brick wall was starting to leave scars. Time to move on.
The Second Try
In December I found a new firm who agreed to take the files and complete the site. Not sure where I found them (might have been Elance again). This was an Indian firm and they were pretty cheap too. I was keen to avoid splashing out 20 grand on a site like we had done in 2002/2003 with Ceonex. They started off really well but we soon settled into the tired old routine of me writing for 3 hours only to have 5% of my instructions actually worked on. This went on until June 2007. In July I basically gave up. In August they uploaded the half-completed site and the project was dead. Two design firms, 14 months and a few thousand dollars later we still had no new site. :(
I'm sure you can appreciate how incredibly frustrating this was. I had spent countless hours writing huge messages trying to convey what I wanted and all for nothing. So I wasn't exactly motivated to find another design firm. I resigned myself to no new site and forgot about it for 6 months.
The EnhancedLabs Story
In March 2008 I decided to attack the project again. But this time I decided not to use any outsourcing place like Elance. And the site originally designed in June 2006 was now out of date so I wouldn't be using that but instead starting afresh. I spent a few weeks browsing CSS Design Galleries and slowly worked up a list of designers and example sites I liked and after a few weeks of communicating with a few companies I made a selection. I chose a reputable US based firm that were quite expensive, hoping that by throwing money at it I could solve the problem. That firm was EnhancedLabs.
There were warning signs from the very start. The contract was vague and ambiguous but I was swayed by the designer's "Don't worry, we'll look after you" type of comments. I had afterall told him the story of the project to date and my disappointments so surely he wouldn't let me down? It took a month of wrangling over the contract before I just accepted it, desperate to get the project back off the ground. They were also going to do a little side project (a brochure) and they did this first. Anyhow, the first concept of the new site was delivered in June 2008: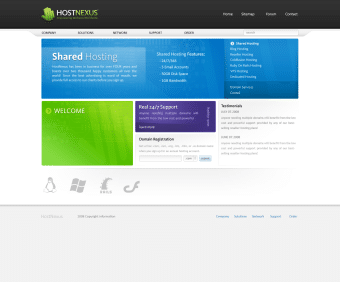 It was okay. It wasn't 10 grand okay, but I thought it had possibilities. Over the next 4 weeks I worked on tweaking it, seeing how sub-pages would work out. On some things I requested EnhancedLabs just flat out refused which I thought was a bit weird – maybe they thought they knew better than me….
But after a month I reviewed the site, the money I was spending, comparing against sites on the net that I liked and I just wasn't in a happy place. I asked EL to do another concept, something darker and more colourful. They said sure, but of course it was going to cost. Actually not only just cost more the whole contract was going to need "adjusting". Whatever, in for a penny in for a pound. The next concept they did was the one you see now on the site (not 100% but almost). They did up quite a few sub-pages but not all and the ones that were done weren't done to my specifications. As far as I was concerned I had sent them a huge document that detailed the scope of the project and just assumed they'd do everything listed on it. It took a further 3 months to get to the stage where it could be coded in CSS/XHTML (this was now November 2008).
So in November EL delivered their "final site" – all coded in CSS/XHTML. Except half the site was missing. A lot of the core content sub-pages were there but many were just templates with no real content. I spent a few days on a document that listed every page and the changes need in order to be complete (from my perspective). I'll be honest and say there was some new stuff in there. As a project develops I tend to visualise things differently or see a different way something can be done but most of the document was compiled from the original project specs the developers had been sent.
EnhancedLabs simply said all that wasn't covered in teh new contract, blah blah blah. They were not interested in customer satisfaction one bit. I think they priced up a job (at $125/hour) and were unwilling to do a minute more. They made a nice site but would I recommend them? Absolutely NOT. They are expensive, have no real commitment to their client's satisfaction in the end project and were generally slow. Plus they outsource all their coding so during that phase I felt like I was dealing with a middleman.
The Light At The End Of The Tunnel
So here I was again in familiar territory. I had a site that was half-complete and no developer. I certainly wasn't going to continue with EnhancedLabs after dropping $12k and being told to complete the site would cost more. I posted a job on oDesk which is the same kind of deal as Elance. We were so close now to completing this job and had a decent site and I wasn't going to be defeated again. I decided on a Philipino firm called DesignsKo, gave them the document detailing everything needed to complete the site and they started in December.
Straight away I was bowled over. One thing that I wanted was a tabbed design on our Solutions section and this was one thing that EL just refused and then ignored me on. DesignsKo showed me what they had done and it was better than I had imagined. This was the first time in many, many years that a designer had shown me something that was better than I had expected. THAT is what I am looking for when working with a designer. I had wanted the tabs to work in Ajax or jQuery kind of stuff but we had some technical issues with internal linking so I dropped that. Over the next few months they went above and beyond my expectations and even when I added new stuff they didn't blink. They worked so hard that at the end of the job they had spent 3 months on it for such a ridiculously low price that I paid 3 times as much just because they deserved it (they never once asked for more money). It was an absolute pleasure working with them and I'm sure we'll work together again.
At the same time, in the months December to February I worked with three other designers who did the skins/themes for our Forum, our Kayako Helpdesk and this blog. All of them were amazing to work with and I really couldn't understand what was happening. After 3 years of frustrations and disappointments I was now surrounded by designers that really cared about their client's satisfaction. So if you need a vBulletin skin, WordPress theme or Kayako skin please check out these people:
For a vBulletin Skin contact Hanafi at http://www.sultantheme.com.
Hiren at http://www.supportskins.com will hook you up with a custom Kayako skin. I found SupportSkins on Kayako's own forum and if my word isn't good enough just take a look at this thread and you'll see many people recommending them. Fantastic stuff.
This custom wordpress theme was done by Michael at http://www.problogdesign.com. This guy is the don of WordPress customising and modding.
So there you have it. Ended up being long but if you've ever been through a frustrating design process then I think you'll identify. Some great designers listed here and they aren't that expensive so if you're looking for someone I heartily recommend DesignsKo, SultanTheme, SupportSkins and ProBlogDesign.
Thanks for reading. :D