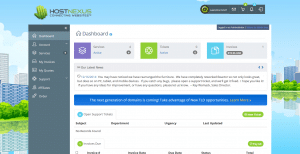 In the early hours of Wednesday morning (November 23rd 2016) we will be rolling out a new website for HostNexus and mothballing AtomicVPS while we work on developing a new cloud-based product line.
The support and billing system we use at AtomicVPS will be ported over to HostNexus and all AtomicVPS clients will effectively be HostNexus clients from this point forward. All HostNexus clients have been added to this system and this will be your method of contacting us for technical support.
Over the next few months I will be transferring the billing for HN clients into this system so you'll be able to login and view, pay and download invoices. This will take some time so please bear with me.
On the new site we'll have new product lines and a bunch of new features including a new spam filter, new sitebuilder and you'll even be able to install SSL certificates with the click of a button and not have to worry about any validation process.
Starting over the Christmas break I am moving our cloud platform to a new data center. We have learned a lot over the last 3 years and we know what works, what doesn't and what the ideal cloud setup would be. The new platform will have better and more CPUs, more space, better RAID technology and a completely reworked backup system that will integrate with both Windows and Linux versions of Plesk as well as cPanel. We are also switching out the underlying virtualization technology. The outcome will be an improved, faster and more stable platform. There will be more CPU power available and the change from RAID 50 to RAID 10 will see massive improvements in disk speed, meaning we can take full advantage of the power of SSD drives.
If you are an AtomicVPS client you'll see the AVPS site disappear on Wednesday and be replaced with a simple notification of this change and you'll contact us from the HostNexus site. If you are a HostNexus client I will be resetting everyone's login details and you'll receive an email with those new details. I have used your main billing address and also added additional contacts to your support account based on the email you used when you signed up with HN.