SEO is generally pretty boring. The fun part is watching the results of your efforts. And the first step in SEO, Keyword Research, makes my eyes bleed. It kills me so much that I even had this articles written out in Word and it still took a week to simply copy and paste, upload a few images, clean it up a bit and paste.
BUT, unfortunately it is very necessary and is the foundation of your SEO so it can't be ignored or done half-heartedly. You are going to have to spend time on it and maybe money but once it's done, it's done (for a while anyway). Right, onwards….
Before you do anything, and that means before you've even bought a domain name (if you don't have one) you need to perform Keyword Research. A "keyword" is simply a term for the word or phrase that a prospective customer or visitor is using as a search criteria when looking on a search engine for something. Therefore you need to know what people are searching for when trying to locate products, services or websites in your field or niche.
Website Core Terms
All keywords will be "core terms" if you're lucky (because core terms can be so competitive) or phrases that stem from your core terms. Your core terms will generally be your website's main offerings and contain 2 or 3 words. For instance in our case our core terms are the different types of hosting solutions we offer. Here are a few examples:
Linux Hosting
Windows Hosting
Reseller Hosting
Windows Reseller Hosting
Linux Web Hosting
Windows Web Hosting
Other core terms could simply be "hosting" and "web hosting" and while stats do prove that people actually search using those terms they are generally too broad and not targeting a specific type of hosting. Someone searching for "hosting" might really want "windows hosting" and will generally refine their searching criteria after seeing too broad a spectrum of results.
To find these core terms study your own site to see what terms you are actually already using. After all you are going to be optimizing to drive traffic to your site! Scour the body text but also look at your titles and meta description. If you don't have a site yet or you're researching for a new site then check your competition. Work out what their core terms are. Looking at your competitors is the next step even if you have a website.
Lastly, when brainstorming core terms think what words and phrase a normal person would use when searching. What is their intent? What are their motivations? What are they trying to accomplish? Build the core Term list and don't worry about the size of the list– the more the merrier.
Keyword Research Software
So now you have a nice list of core terms. So the next step is to expand on that by using Keyword Research software. There are various tools you can use that pull real data from search engines. None are all encompassing but there are a few that are very popular and I advise that you use all of them and perform exhaustive research. There are also programs you can buy that help with Keyword Research (along with many other facets of SEO). Some of the more popular programs are SEO Elite, WebCEO and iBusinessPromoter. I advise against shelling out your hard-earn pesos for such programs because there are many free programs available that do the same thing.
However! There is one paid tool that is probably the most popular Keyword Research tool on the web and that is WordTracker.
WordTracker uses metadata from "Dogpile" which only has a 1% market share of online searches but the tool's insight to searching behaviour and patterns is what makes it so valuable. It's not free ($59/mo) but I really, REALLY recommend using it for at least one month just to brainstorm initial keyword terms. There is a free trial so if you can get your keyword research done within 7 days and you're on a budget you can just cancel the subscription before it charges you. I'm pretty sure all the features are available in the trial version. There is also a Free Version but it's somewhat limited.
Keyword Research at WordTracker
Your first step at Wordtracker is to input one your Core Terms into the Related Keywords search box in Keyword Universe: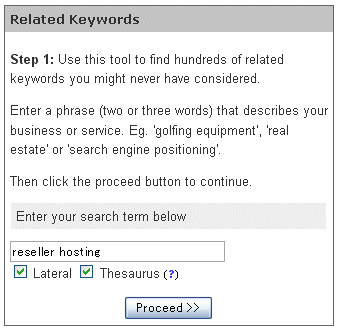 This is going to generate a list of 300 related terms. Click on each term to get more related terms for that particular term and on the right you can click on these to add to the Wordtracker basket. In my case for the example above and in the video a "Reseller Hosting" search also gave me "hosting" which when clicked gave me another list of 300 hosting terms. What I can to do here is have a quick look through to see if there are any original Core Terms that I might have missed, maybe some terms that we don't target specifically at the moment but are related.
For instance I see here domain hosting, photo hosting, video hosting. These are all terms that relate to or are included in our standard hosting offerings and I never thought to target. So I could build some content around these terms and maybe drive traffic to them and funnel visitors to our hosting plans that support photo hosting and video hosting – that kind of thing. So I'd just run through that quickly and Click to Step 3 and export this list and add it my spreadsheet or document that contains my Core Terms.
Okay, let's go back and work on our first core term which was Reseller Hosting. So I click Reseller Hosting to get more terms. And I add all these terms to the basket and go to Step 3.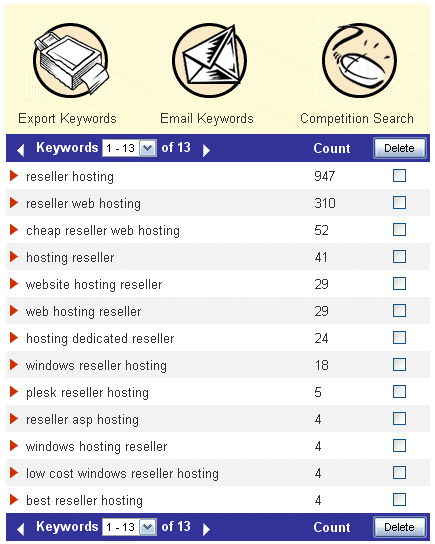 This "Count" figure is an internal Wordtracker metric. The higher it is the more relevant and valuable the term is. From here you can export this list and copy it over to your spreadsheet or document under the correct Core Term heading.
Next thing I'm going to do is a competitive analysis or Competition Search in the above image. And choose Google here.

And here we see some extra metrics. This KEI metric is quite complex but the higher it is the more accessible the keyword might be. But the metric is relative. As we can see here it lists Reseller Hosting near the top but I know this is the most competitive term in the reseller hosting SERPs. As you can see it says 4 million pages competing but to be honest and looking at the SERPs I would say the top 50 are seriously competing. Before I started on HN's new SEO campaign we were ranking at 48 for a horribly optimized website. The 24Hrs column lists a best guess on how many times the term is searched for on Google. Don't ignore the little numbers! If you could rank at #1 for 5 of the keywords only searched for 3 times a day that is still 15 possible sales. And people searching for more specific terms are more likely to buy too.
Another few tools that can use are google.com/sktool and searchmarketing.yahoo.com. Please do run your keywords through these tools as well. I am certain you will find additional ideas!
These results depend on many things that you should all take into account before deciding on whether you're going to target a keyword. How old is your site, how are you ranking now, how many backlinks do you have, how many links do your competitors have?
But for now, focus on building your list of keywords. Repeat the above steps for all your Core Terms.
Final Words
I also used Keyword Discovery when doing my keyword research. They also have a metric that projects how often a keyword is searched on Google and many of the stats for the keywords were vastly different from those in WordTracker. I have no idea how either of these get their numbers for Google because I'm pretty Google isn't giving out that info. So I generally use terms that decent stats in both tools. I was also able to complete the Keyword Research in KeyWord Discovery within the 7 days trial but remain subscribed to WordTracker.